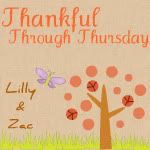 Do we eat too much pizza? This was tonight, and it looks remarkably similar to our last pizza picture.
Still, I'd like to point out that
1. I served it will tomatoes and cucumbers. These kids LOVE tomatoes and cucumbers.
2. It was English muffin pizza - whole grain english muffins with sauce, cheese, and olives. Not too bad right?
Don't judge!

Zac loves Peek-A-Boo! He loves that he has the control now to put a blanket over his eyes, giggle while I "look for him," and then reveal his face. I love that I can see his smile in this picture - he gets SO excited!
Lilly just HAD to try on this too-small jacket tonight. Shyla, this one is coming your way next winter!
This was from a couple days ago. Zac loves this book!
And Lilly loves cupcakes!
(Don't forget... tomatoes and cucumbers tonight. Good, wholesome veggies. Just sayin')
Naked (or, almost naked) Zac loves to beat on his own belly.
Thankful.