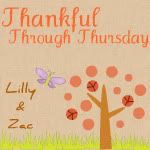 Here it is, Thursday again...
These first two pictures are of Zac, trying to do a bit more than he can do quite yet and getting frustrated. This particular goal was to carry two tubs of playdough and two blankies at the same time. He struggled with this for ever, and I just grabbed my camera at the end.
Here, he was trying to put the tubs on the blankies so that he can carry them more easily.


and some obvious anger that it wasn't working out just right! Bless his heart!


Isn't he a doll?

And Lilly. Backpack - check. Phone - check. Tutu - check. Looks like we're ready for Trader Joes and the park!


First brownies, now pizza! She has been on quite a cooking kick! I guess I need to figure out some more healthy foods for us to cook together. I swear we usually eat better than this!
Anyhow, we were telling stories one night and made one up about a princess who loved pizza, so we decided to "make our own." Yes, it's in quotes because I used Boboli and sauce from a jar.
Here we are cheesing it up!


Lilly decided on olives and mushrooms. Between her and Zac snacking on the toppings, we're lucky any ended up on the pizza!


Delicious! I'm pretty sure we actually had the crust upside down, but whatever... pizza is pizza is pizza in my book!
Happy Thursday.
I. Am. Thankful.