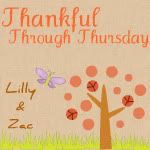 Look at my new "Thankful Through Thursday" button!
Becca made me a "20th" button too... look to the right!
Thursday is here! We have had a pretty laid back week.
Lilly is doing great with her big girl bed! Am I jinxing it by saying it? We haven't really had any issues with her getting up. Bedtime routine has changed just a bit, but we are all adapting. Doesn't she look little in that big bed?
And Mr. Miles of Smiles!
Lilly has been sleeping so well, in fact, that she had a couple of really grumpy mornings. She would tell me that she was sleeping again and just refuse to get up!
We have introduced the tradition (started by Auntie Kendra as a young girl) of morning hot cocoa. So far, so good!
And my main man Zac, enjoying a snack before dinner!
I am Thankful!