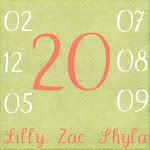 Happy 20th!
I love love love the 20th!
Today's 20th post will be short and sweet. We are at my great friend Natalie's in Phoenix this weekend, and are having a blast. I will post about the whole weekend later, but HAD to do a 20th post of course!
Yesterday, the kids played with Spencer's water table. They had such fun!
Today, we went to Dunkin Donuts. Turns out, their coffee really is pretty darn good! I kinda like this picture, even though Lilly's face is a mess and Zac is distracted... those are my kids!
Zac rather enjoyed the last part of Lilly's filled donut.
Next, off to the toy store to visit Peter Rabbit! Zac actually showed a lot of interest and loved Peter Rabbit. Until, of course, I tried to put him on his lap for a picture. That did not go well.
And, Lilly LOVED the story time, but surprisingly didn't want to sit with Peter. She did stand there with Spencer though.
Happy 20th to Lilly, Zac, and Shyla May! Make sure to check out
Kendra's
20th post too :)