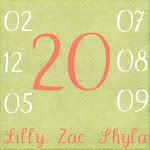 Would you believe that I posted this on the 20th, only to have aliens come down and delete it???
No?
Ok, that didn't happen.
I've been a bad, bad blogger lately.
Thing is, I've been busy. I'll try be better.
So... the 20th! This month, the 20th was on Father's Day! Happy Father's Day to all the daddies out there!
In honor of the 20th, we tried to take a picture of the three kids together. Imagine the chaos! Here was the winner:
And, some outtakes:
HAHAHA!
Now, Father's Day. Sadly, Jeremy had to work. We were able to spend some time with him in the morninng, but this picture was from a few days earlier.
Also, sadly, my dad got a flat tire on his way back from fish camp, so he didn't make it home until Father's Day was pretty much over.
Stevie was there though! As the only father at dinner, he was asked to look "fatherly" at the cake. This is what he came up with.